Dear Friend,
I am pleased to send you this edition of my electronic newsletter. These e-newsletters enable me to provide information about issues, events and activities in Harrisburg and around the 41st Senatorial District to you in a timely manner while saving postage costs.
If you find this e-newsletter useful, I invite you to visit my website www.senatordonwhite.com for more information about your state government. You can also keep up to date through www.facebook.com/senatordonwhite.
If you do not wish to receive these e-newsletters, please click the "unsubscribe" button at the bottom of the page.
Sincerely,
Don White
---
Senate Begins 2017-18 Legislative Session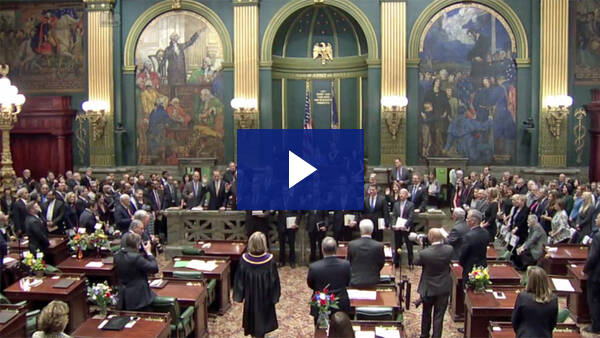 Just after noon on January 3, I was sworn into office during a ceremony in the Senate Chamber of the Pennsylvania State Capitol, beginning my fifth term as the official advocate for the nearly 244,000 residents of the 41st Senatorial District.
Swearing-in day is always a special event, traditionally filled with pomp and ceremony. I now look forward to getting down to business as quickly as possible to address the important issues facing Pennsylvania, especially public pension reform and property tax elimination. We must also continue striving to improve Pennsylvania's economy and promote job creation. Those are just some of the challenges that I look forward to addressing during this new legislative session.
Senate President Pro Tempore Joe Scarnati recently reappointed me to serve as Chairman of the Senate Banking & Insurance Committee for the 2017-18 Legislative Session.
I am honored to continue serving as the Chairman of the Senate Banking & Insurance Committee. I expect the committee will again be extremely active over the upcoming two years. We will certainly be following the anticipated changes to the federal Affordable Care Act that will likely come out of Washington early next year. I also anticipate that we will be looking at other aspects of the healthcare marketplace.
I have chaired the Banking and Insurance Committee since 2007. I chaired the Veterans Affairs and Emergency Preparedness Committee from 2003 to 2006 and the Senate Intergovernmental Affairs Committee for the 2001-02 Legislative Session.
Local Park, Recreation Projects Receive $305,000 in State Grants
I am pleased to report that a total of $305,000 in state money to improve and upgrade local parks and recreational areas will soon be on the way. Several groups, counties and municipalities within the 41st District have been selected to receive Community Conservation Partnerships Program grants from the state Department of Conservation and Natural Resources.
The CCPP provides financial and technical assistance to local governments, land trusts, river and trail organizations and other non-profit organizations for the planning, acquisition and development of park, recreation, conservation and greenway areas. The grant recipients in the 41st District include:
Armstrong County
Freeport Borough will receive $10,000 for the rehabilitation of the 9 acre James E. Swartz Park.
Butler County
Buffalo Township will receive $200,000 for the development of Buffalo Township Community Park, including the construction of a natural play area, access drive, parking area, pavilion, pedestrian walkway, ADA access, landscaping and related site improvements.
Indiana County
Homer-Center School District will receive $85,000 for rehabilitation and further development of the Homer-Center Elementary School playground, including construction of a parking area, installation of play equipment with a safety surface, ADA access, landscaping and related site improvements.
Westmoreland County
Avonmore Borough will receive $10,000 for the rehabilitation of the 10 acre Pasternak Recreational Area.
PENNDOT Stops Issuing Registration Stickers
The beginning of 2017 marked the end of PENNDOT's license plate registration stickers. Act 89 of 2013 provided for the elimination of vehicle registration stickers, a move that will realize a cost savings to taxpayers of $1.1 million per year. An additional $2 million will be saved in mailing costs.
Motorists are still required to maintain current vehicle registration, and must present a registration card to law enforcement when asked. A valid registration card is also still required when having a safety and/or emissions inspection completed.
Law enforcement agencies have electronic access to PENNDOT's database from their patrol vehicles, which allows them to verify if a vehicle registration is valid. In addition, many use license plate reader technology to efficiently validate registrations.
DEP Suspends Costly, Redundant Fuel Pump Regulation
The Pennsylvania Department of Environmental Protection, in accordance with a state law that I co-sponsored, has ended its requirement that gas pumps be equipped with a costly and effectively redundant recovery system.
Act 135 of 2012, eliminated the requirement that gas stations in the Pittsburgh region install Stage II vapor recovery systems on fuel pumps. Since 2000, all passenger cars and light trucks have been required to include onboard refueling emissions controls, rendering the costly Stage II vapor recovery systems on fuel pumps redundant. In fact, the two technologies used in tandem have been shown to be less effective than either system alone.
Stage II vapor recovery systems were required for approximately 1,600 gasoline dispensing facilities in Allegheny, Armstrong, Beaver, Bucks, Butler, Chester, Delaware, Fayette, Montgomery, Philadelphia, Washington, and Westmoreland counties.
Dog Licenses Now Available at County Treasurers' Offices
Pennsylvanians can now purchase 2017 dog licenses from their county treasurers. State law requires all dogs three months and older to be licensed by January 1 of each year.
An annual dog license is $8.50, or $6.50 if the animal is spayed or neutered. Lifetime licenses are available for dogs that have permanent identification like a microchip or tattoo. Older adults and people with disabilities may be eligible for discounts.
The dog license application is simple and only requests owner contact information and details about the dog being licensed, like name, age, breed and color.
For more information, including a list of county treasurers, visit www.licenseyourdogPA.com or call the Bureau of Dog Law Enforcement Office at (717) 787-3062.
PHMC Accepting Keystone Historic Preservation Grant Applications
The Pennsylvania Historical and Museum Commission (PHMC) is now accepting applications for Keystone Historic Preservation Grants.
A total of $1.5 million will be available for grants for projects that identify, preserve, promote and protect historic and archaeological resources in Pennsylvania. Two types of grants – project and construction – are available for historic resources in Pennsylvania listed, or eligible for listing, in the National Register of Historic Places. Applicants may apply for only one type of grant.
For grant program guidelines and eGrant application instructions, visit PHMC online at www.phmc.pa.gov and click on "Grants and Funding" under the PRESERVATION tab on the top navigation bar. The application deadline is March 1, 2017. For more information, contact Karen Arnold by email at kaarnold@pa.gov or telephone at (717) 783-9927.
State Police Announce Holiday Crash/Enforcement Results
Pennsylvania State Police investigated 661 crashes during the four-day Christmas holiday from Dec. 23-26, 2016, up from 632 crashes in 2015. Of the 661 collisions this year, 50 involved alcohol, 201 people were injured, and two people were killed. State police arrested 314 people for driving under the influence over the Christmas holiday. The 314 arrests represent a 44 percent increase from 2015, when state police made 218 DUI arrests during the same four-day Christmas driving period.
State police investigated 595 crashes over the three-day New Year's holiday (Dec. 30, 2016 through Jan. 1, 2017), up from 458 crashes in 2016. Of the 595 collisions this year, 46 involved alcohol, 113 people were injured, and four people were killed. Troopers arrested 328 people for driving under the influence. The 328 arrests mark a slight increase from 2016 when 309 DUI arrests were made during the holiday driving period.
Mark Your Calendar
The Indiana County Chamber of Commerce's Annual Business Expo will be held on Saturday, January 28, from 10 a.m. to 3 p.m., at the Indiana Mall. Come join us for this fun event featuring exhibitors from local businesses as well as entertainment and door prizes.